I've said goodbye to summer so often in the last few weeks that I'm starting to feel like a character in a Raymond Chandler noir. Yes, that one, probably the most complicated novel Chandler ever wrote. But honestly, it's as hard to say goodbye to the non-summer we had this year as it was for Philip Marlowe to bid farewell to Terry Lennox.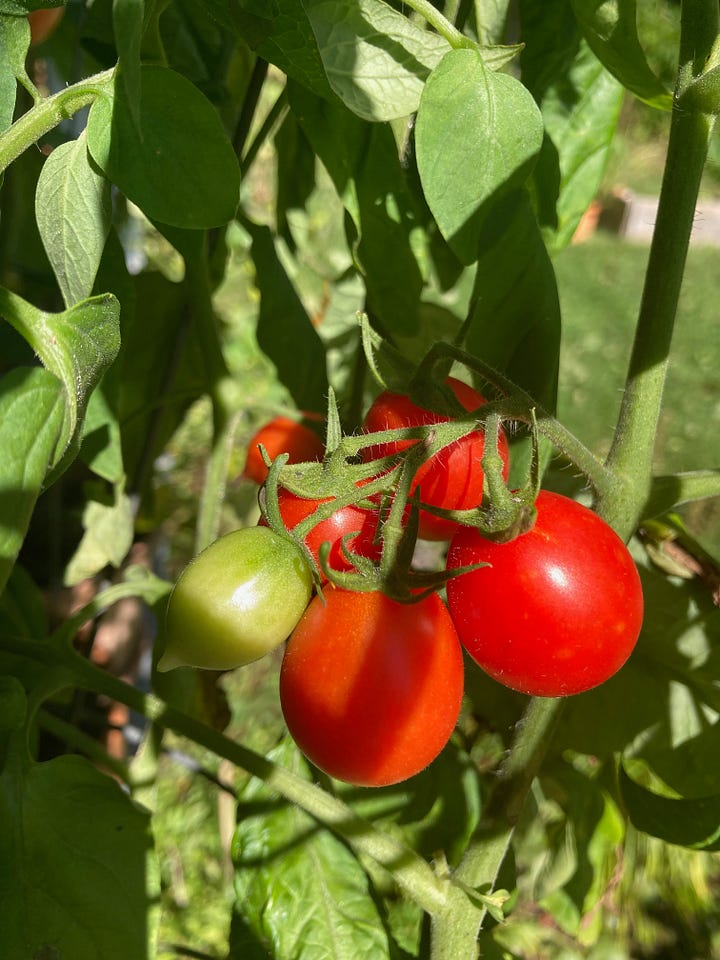 There are still tomatoes on my vines, green, yellow, and red, and they might just keep on a-growing until we get a frost. Which could happen any day now. Or not until the end of October. But that's the farmer's life, even when the farm consists of six terracotta pots of patio tomatoes and a planter box of flourishing basil.
Meanwhile, I take advantage of the waning season to stock up from wiser and more productive farmers, like Victoria Marshall of Doralenna Farm way off in Montville, Maine. Victoria supplies my daughter's restaurant (Nīna June in Rockport) and many others with an amazingly colorful array of produce plus the
tastiest chickens imaginable. On top of all that, she's a lot of fun, as was proven one year when she came to Tuscany with a group of friends to help us with the olive harvest. We get appeals every year from people who are "just dying" to harvest olives but we've learned to be very choosey, sifting applications carefully for farmers like Victoria who get out of bed early and work all day without complaining.
But that's a long way from tomatoes.
Or maybe not. Because if I owe my high-class tomatoes to Doralenna, my actual tomato sense and sensibilities I owe to my erstwhile Tuscan neighbor Mita who each year grew, harvested, and put up countless tomatoes, including 300-plus jars of pomarola, or tomato sauce, to see her family through the coming winter and on through spring till tomatoes were once again ripening on her garden vines. Her equipment was rudimentary, to say the least, although it improved as time went on. Perhaps the most upgrading item was the passapomodoro, a hand-cranked machine that was clasped to the outside work table, under the shade of the oak tree in the farm yard. Most of the prep work, and even the cooking and processing of the pomarola took place outside. It was a hot, messy, day-long job that involved, at one point or another, all the other members of the family as the tomatoes, brought in from the garden in big baskets, were rinsed, scalded, and then put through the grinder, sometimes twice, to extract the seeds and skins and leave a pure tomato pulp. Often this was bottled directly, but a quantity was kept back to be further cooked with carrots, dark green celery, and onions, then pureed again to make a ready-to-use sauce for those winter nights when the cook didn't actually feel like cooking. And then, once all this was bottled, the bottles themselves were processed in an old oil barrel set over a propane heater and filled with water to make a boiling water bath. Completely sealed by this treatment, the bottles of pomarola would last for months, and one dark night in February when the tramontana wind howls and snow swirls around the farmhouse and smoke comes back down the fireplace chimney, the pungent aromas of pasta al pomodoro, with a little garlic, a little dried fennel pollen, a little grated cheese, will make a feast for a hungry family.
Making pomarola was a huge amount of work. I've managed over the years to simplify it to where I can handle it on my own (see my directions below the paywall). But then, I never make more than a dozen jars of the stuff and, really, it's a matter of pride rather than quality or quantity to have that much on hand. For the rest of my needs, I rely on gustiamo.com, importers of the wonderful Gustarosso brand and several other tomato-based deliciousnesses, all from the mineral-rich volcanic soil around Vesuvius where arguably some of the finest and tastiest tomatoes in the world are grown.
There are other ways, of course, to preserve tomatoes. The easiest I learned from my friend Barbara Damrosch, champion cook and gardener, who simply drops clean, dry tomatoes into a zip-lock bag and stores them in the freezer until she's ready to use them. Set in a colander in the sink at breakfast, they thaw all day and are ready to use by suppertime—just lift off the peels and you have practically a ready-made tomato sauce. (I lost both my freezers in a basement flood last spring and have yet to replace them so the Damrosch technique is out for me this year.)
For a somewhat more time-consuming method, you can follow the example of thousands of Sicilian cooks and reduce the tomatoes to a thick puree which is then spread on clean boards that are laid out in the sun all day. The tomatoes slowly give up much of their liquid, concentrating over many days into a thick paste called stratto or strattu (from estratto, extracted). A spoonful of stratto, stirred into a winter minestrone, adds a big dollop of warm Sicilian summer to the dish. But: you cannot leave home during this process, for the boards must be brought in at sunset and set back out again in the morning over a period of days. Still, it's worth it for the taste of concentrated sunshine that develops. Admittedly, this works much better in Sicily than it does in Maine. (Does that go without saying, perhaps?) I first saw the technique in the courtyard at Le Case Vecchie, Anna Tasca Lanza's delightful cooking school at her family estate, Regaleali, in the heart of the heart of the island. The school is now run by Fabrizia Lanza, Anna's daughter, and well worth looking into if you're planning a trip to Sicily sometime soon. (See annatascalanza.com) You will learn a lot, see a lot, cook a lot, and most importantly taste a lot.
Since making stratto doesn't work in Maine or many other places that lack that intense, dry, penetrating sunlight of Sicily, I once again rely on a friendly importer, Manicaretti, which brings in little jars of the dark, mahogany-colored stratto made by Maria Grammatico, a renowned cook from Erice, at the far western end of the island. You can find Maria Grammatico's stratto at markethallfoods.com.
Writing about tomatoes makes me think of history, because what, food historians ask themselves, could Mediterranean food have been like before the introduction of the tomato? Whether it's Andalucian gazpacho from one end of the Mediterranean or Syrian banadurah harrah (spicy tomato salsa) from the other, tomatoes changed Mediterranean cooking in almost unimaginable ways. Try to think of Italian or Provençal food without tomatoes and inevitably you come up against a stodgy diet of beans and bread. Yet tomatoes are, relatively speaking. a recent introduction. I remember Greek food writer Aglaia Kremezi telling me that it was in her grandmother's time, probably late in the nineteenth century, that tomatoes became customary in Greek cuisine. On the other hand, Pellegrino Artusi (about whom more one of these days when I have time to research that astonishing gentleman), in the ur-text of Italian cuisine, Science in the Kitchen and the Art of Eating Well, first published in 1891, tells the following story:
"There once was a priest from Romagna who stuck his nose into everything, and busy-bodied his way into families, trying to interfere in every domestic matter. Still, he was an honest fellow, and since more good than ill came of his zeal, people let him carry on in his usual style. But popular wit dubbed him Don Pomodoro (Father Tomato), since tomatoes are also ubiquitous."
Still, as Lorenza de Medici points out in her introduction to Artusi, tomatoes only began to be grown in Italy in the first decades of the nineteenth century and remained unpopular for years.
So if we think of tomatoes as a kind of bedrock of Mediterranean food, we're not thinking historically at all.
I was a historian long before I was a food writer so it was logical for me to combine the two interests. As a student of the ancient Eastern Mediterranean (my first published book under my own name was about boats and boat-building in Ancient Egypt), it was natural enough to focus on the origins, developments, and trade patterns of basic Mediterranean foods—the Mediterranean triad of grains (principally wheat), wine, and olive oil. Add to that foundation, all the other ingredients that came onto the regional table over the years, rice, sugar, and citrus from farther to the east, and tomatoes, peppers, beans, and maize corn from lands far to the west, and eventually you arrive at what we call the Mediterranean diet today, still founded on grains, wine, and olive oil, but enriched and enlivened by all those other contributions.
Why do I bring this up now? Because I've recently encountered two delightful and interesting cookbooks, both dealing with the important subject of the cuisine of Italian Jews, and each one, alas, including a glaring error of food history. Mistakes like these are all too frequent and get passed along by earnest writers who are eager to bring history into the play. After all, history lends credibility to food traditions. But not when it's a misinterpretation. Then it just gets in the way.
Here's one, and it's an error that's made so frequently that it practically becomes history in itself. And yet it's not. This is from Portico: Cooking and Feasting in Rome's Jewish Kitchen (Norton, 2023) by Leah Koenig, who says that Catherine de Medici introduced artichokes to the French "following her marriage to Henri II." But Catherine did not marry Henri II; instead, at the age of 14, she married the second son of the King of France, also just 14 years old, who became Dauphin only on the death of his elder brother (remember "an heir and a spare") and king not until a decade later. Catherine is often credited, quite wrongly, with bringing Italian refinements (artichokes! peas! forks!) to the French court but in fact, as Barbara Ketcham Wheaton pointed out in her brilliant study Savoring the Past: The French Kitchen and Table from 1300 to 1789, Catherine was hardly in a position to exert influence on the French court.
I wouldn't go on so much about this were it not that I like Leah Koenig's book a lot. It's named for the Portico d'Ottavia, an ancient Roman gate that marks the entrance of Rome's historic ghetto, a neighborhood that's still treasured by a Jewish population that's been present in the city for more than two millennia. (Who, after all, brought Christianity to Rome? The Jews, of course!) To that foundation population of Jews who've always been there, called Italkim, Koenig cites two important additions: the Sephardim who arrived after the expulsion of non-Christians from Spain and Spanish-held territories in southern Italy in the late fifteenth century; and then Libyan Jews who emigrated to Rome in the late twentieth century and invigorated the ancient community and its culinary traditions.
Speaking of tomatoes, I'm especially attracted to Koenig's recipe for a sweet and spicy Libyan Jewish spread made with tomatoes, lots of garlic, plenty of chili peppers, and, of course, olive oil. Called merduma, it sounds like a terrific way to preserve tomatoes for the winter and would be a wonderful addition to a Libyan couscous or even to a more traditionally Italian pasta al pomodoro. Before our tomatoes are gone completely, I'm planning to invest in another three pounds or so to make this intriguing spread.
The second book I want to praise and critique is Jewish Flavours of Italy by Silvia Nacamulli (Green Bean Books, 2022), who grew up in that same Roman ghetto-no-longer-ghetto that nestles between the Tiber and the heights of the Campidoglio, home to Jewish life, memories, and traditions, as well as to the Great Synagogue of Rome and the museum of the Shoah. Nacamulli's book is more wide-ranging than Koenig's, including descriptions and recipes from Venice, Ferrara, and the north of Italy, the Sephardic cuisine of Livorno and the Tyrrhenian coast, and what she calls "the lost South," Sicily, Puglia, and Calabria, once part of a vital network for Mediterranean Jewry, stretching from Italy all the way to Southern India. And that's where I have my food-historical problem. Nacamulli includes an entirely non-controversial recipe for caponata, one of my favorite dishes from Sicily and the Mezzogiorno—although I would use fresh tomatoes rather than tinned since it's a dish of the summer kitchen. But then she describes it as a traditional Sicilian dish that "the Jews took north with them after their expulsion from the island following the arrival of the Spanish Inquisition there in 1492." In 1492? Where did Sicilian Jews, or any other Sicilians for that matter, have access to tomatoes in 1492?
Again, why do I bring this up? Because it seriously undercuts the assertion, suggested by both writers, that Jews in southern Italy, expelled under the Spanish Inquisition, brought a more exciting cuisine to the Italian north. There are a lot of good things to be said about the cuisine of Italian Jews, but that is not one of them. Or at least, the evidence, if it's there, is challenged by the mistakes.
And there are a lot of good things and fine observations in these two books. It's important for Americans, especially, to understand that Jewish food is multiple and varied all over the world, and not just the lox and bagels, gefillte fish and latkes, boiled brisket and noodle kugel of Eastern European tradition. It can and does include pasta-fagioli (pasta and beans), or fiori di zucca fritti (fried zucchini blossoms), or even pasta amatriciana made with carne secca or dried beef—as long as every trace of pork is left out and meat and dairy are kept apart. I just wish, as a historian, that the few inaccuracies weren't so glaring. As Philip Marlowe could have said (but didn't): Just give me the facts, ma'am.
Extending the harvest: Putting up tomatoes
A pantry cupboard full of jars of tomato sauce is a lesson in thrift and economy and at the same time a point of pride, especially when unexpected guests arrive in a blizzard and have to be fed. "No problem," the housekeeper says, "I'll just boil up some pasta and open a jar of my very own pomarola, made last September by these tireless hands."
Keep reading with a 7-day free trial
Subscribe to On the Kitchen Porch to keep reading this post and get 7 days of free access to the full post archives.