A Pea Soup Fog of Memories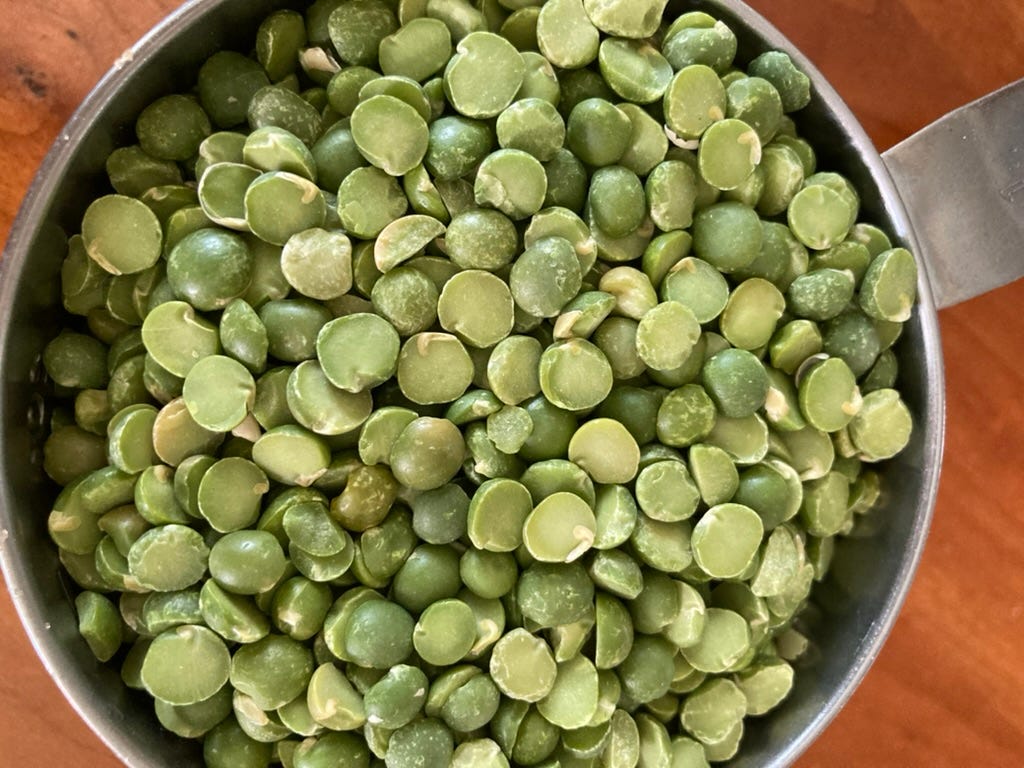 After Thanksgiving, I'm ready for a vacation, even though the holiday for me was splendidly relaxed, thanks to my daughter and the many other cooks who joined in to produce our feast, leaving me to sip a glass of prosecco and offer unheeded comments. Relaxed or not, joyful or not, any such occasion takes its toll. Which is by way of apologizing for a short take this week—and a recuperative bowl of split pea soup, which also comes with a story, of course.
Thanks for reading On the Kitchen Porch! Subscribe for free to receive new posts and support my work.
Years ago—and I confess I can't remember exactly when—I was in Seattle, Washington, having driven up from San Francisco. Why? I cannot possibly recall.
But I do remember that on March 31st, the night before I was to head back to SF with my rental car (another story tucked away in there), I dined in Seattle with a Turkish academic who worked at the University of Washington. She, in turn, had invited a Turkish colleague to join us, and so we spent an evening together, happily noshing on traditional dishes, prepared by my hostess and her friend.
It would probably make this story a whole lot more interesting if I could remember names—of people but especially of what we ate, but I can't, so there, you'll just have to bear with me.
So he, the friend of my friend, when he learned of my intent to follow the interstate (I-5, or, as they say out there, "the Five") all the way back, a twelve-hour trip at best, got very excited. "You must stop," he said, "you absolutely must stop"—and he named a town and a restaurant. "They have the best pea soup in the world."
I think the town was Grant's Pass, almost on the border between Oregon and California, but (of course!) I don't remember the name of the restaurant. Could it have been Elmer's Diner, right there where the Five makes an abrupt left turn to the east to amble up the Rogue River for a spell? Could it? Quite possibly and perhaps someone who reads this can enlighten me.
In any case, the restaurant was right on the Five, I had reached it by 11:30 in the morning on a sunny but cool April 1st, a nice time and a nice day for a bowl of pea soup to speed me on my way to California. I took the next exit and doubled back.
A humble enough place, nothing notable about it: "They say in Seattle that you have the best pea soup in the world," I said to the woman presiding over a nearly empty counter.
"That's what they say," she answered. I felt right at home. She could have been in Maine.
"I'll take a bowl," I said. "But first, where's the rest room?"
She pointed and as I headed down the aisle between tables I remembered something else the Turkish colleague had told me the night before. "Don't be alarmed in the rest room," he said. "It's like a home bathroom with a tub and they've put a very lifelike human mannequin in the tub. It's just a joke."
So I was in on the joke as I opened the door and there indeed across the room was the tub with the extremely lifelike mannequin seated on a chair set in the bathtub.
Of course, I was not startled nor taken aback. I went straight to the toilet and began to unzip my jeans, preparatory to doing my business, when a clear and unmistakably female voice spoke: "April Fool!" it cried triumphantly, "I'm real!"
And so she was. Not a mannequin at all but a real, live human being who was collapsing in a fit of giggles, in which I had perforce to join.
I mean, what else could I have done?
But I wonder to this day what would have happened, what might have happened, had I been a different sort of person, the sort who doesn't really like jokes much at all, and especially not jokes played on herself? I couldn't demand my money back because I hadn't paid anything yet. I suppose I could have stormed out in anger but then, I would have missed the pea soup.
And it was really awfully good. If I could remember, I'd go back there in a heartbeat and order it again.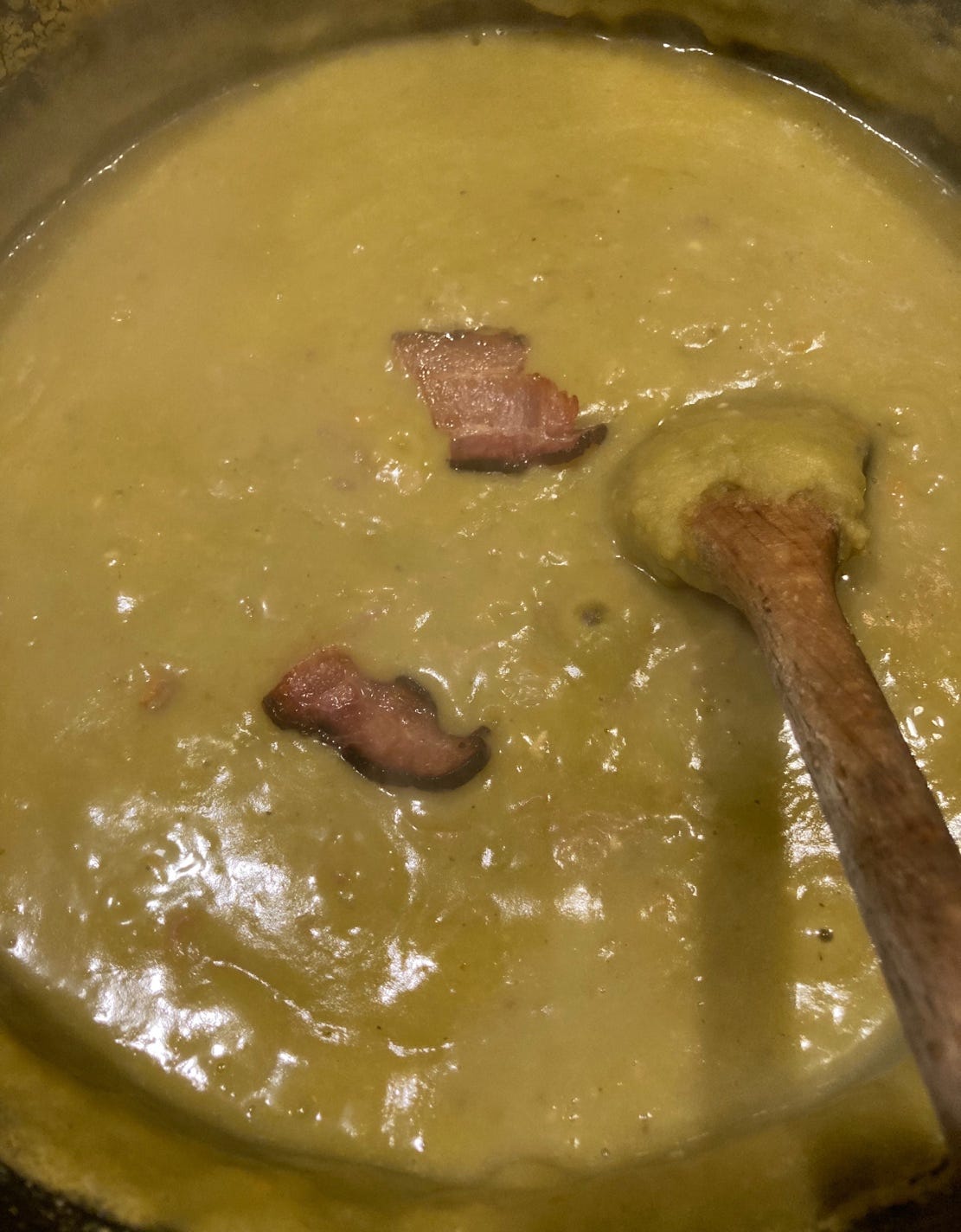 Meanwhile, here's a recipe for pea soup the way we make it in Maine. Served with cornbread, it's supposed to be a staple in the Franco community and I believe my mother did not once serve pea soup without saying: "Pea soup and johnny cake make a Frenchman's belly ache." Enjoy!
Pea Soup: The Recipe
This is not my mother's pea soup recipe—garlic and olive oil had no place in her kitchen. But I like to think that it would have been welcome on her very old-fashioned Maine table, as well as in a Maine logging camp deep in the Northwoods where pea soup was a staple, and possibly even in that mysterious diner somewhere on the Five, south of Portland and well north of San Francisco.
This makes 4 to 6 servings, depending on whether it's a main course or a starter. If you can't get a smoked ham hock, use a thick slice of smoked ham, but be careful of the salt and don't add it until tasting the soup at the end.
Another option if you have it is the carcass of a smoked turkey, which many people like to serve at the holidays. Make the soup vegetarian, if you wish, by leaving out meat altogether, including stock, but add, instead, a tablespoon of smoked paprika and another couple tablespoons of olive oil or butter.
1 ½ cups green split peas

½ cup chopped onion

1 or 2 garlic cloves, chopped

½ cup chopped carrots

½ cup chopped celery

¼ cup extra-virgin olive oil

Big pinch of sea salt and plenty of black pepper

1 smoked ham hock, weighing about 1 pound

6 to 8 cups of hot water or chicken stock if you prefer

2 or 3 bay leaves
Put the peas to soak in a bowl covered by an inch of water and set aside while you prepare the rest of the soup. (They can soak for up to an hour but no longer or they'll get too mushy.)
In a heavy soup kettle, combine the onion garlic, carrots, and celery with the olive oil and set over medium-low heat to cook gently until the vegetables are softened. Add salt and pepper and stir occasionally but don't let the vegetables brown.
When the vegetables are soft, push them to one side and add the ham hock to the center of the kettle. Now add enough hot water or hot chicken stock to just cover the ham hock. Add the bay leaves. Turn the heat down to barely simmering and cook, covered, for 30 minutes or so, then add the soaked peas with their soaking water. Give it all a stir to mix up the peas and the vegetables and add more water or stock to cover everything to a depth of an inch or so.
Cover again and simmer gently for another hour, by which time the peas should be thoroughly softened and the ham meat so tender it's falling off the bone. Remove the hock and set aside.
At this point, if you wish, you can puree the soup--a stick blender makes this easy. Alternatively, you might prefer the soup with a little heft to it, in which case, just leave it as is.
When the ham hock is cool enough to handle, separate out the meat, discarding the fat and the bone. Chop any big pieces of meat and return it all to the soup kettle with the peas, pureed or not.
If you don't serve the soup immediately it will thicken as it cools. Add a little more water or stock to it for reheating.
This is traditionally served in Maine with cornbread or cornmeal johnnycake. It's also good with a handful of butter-toasted croutons on top of each serving. And, in a bow to my Italian heritage, I like to dribble a thin thread of olive oil over the top before serving.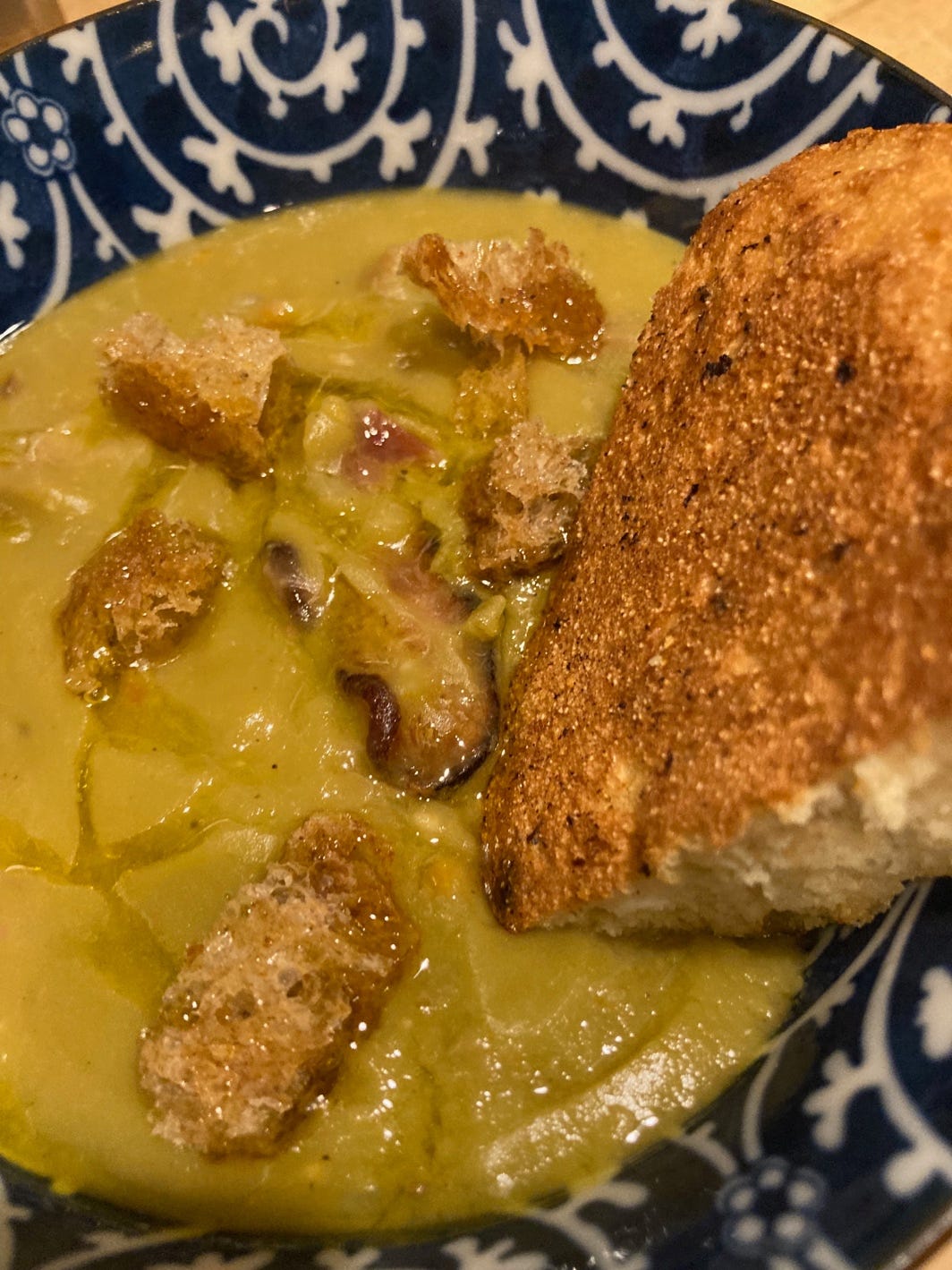 Skillet Corn Bread for 2 to 4 servings
¾ cup cornmeal

¼ cup unbleached all-purpose flour

½ teaspoon baking soda

Pinch of sea salt

1 cup buttermilk

1 egg

¼ cup lean salt pork, slab bacon, or pancetta, diced very small

1 tablespoon olive oil, if necessary
Set the oven on 450 F. Toss together the cornmeal, flour, baking soda and salt in a bowl. (You'll want more or less salt depending on the saltiness of the pork you use.)
In a smaller bowl, whisk the buttermilk and egg until well blended.
In an 8- or 9-inch black-iron skillet set over medium heat, render the pork dice until they become cracklings, crispy and etched with brown, and yield up their fat. (If the pork you use is very lean, add a little oil to the pan to help in the browning.) Remove from the heat and add all the bits and most of the fat to the cornmeal mixture, reserving a little fat in the skillet.
Transfer the skillet to the preheated oven to get very hot.
Stir the pork bits and their fat into the cornmeal mixture, then add the liquid, mixing only enough so there are no big dry lumps in the batter, which should be pourable but not runny. Add more buttermilk or more cornmeal if necessary, depending on whether it's too thick or too thin--it should be the consistency of heavy cream. Set aside.
When the fat in the skillet begins to smoke, remove it from the oven, using heavy-duty oven mitts (caution: the pan will be very hot). Tip the batter into it, letting it spread across the bottom of the pan. The batter should sizzle when it hits the hot iron.
Immediately set the skillet back in the oven and bake 8 minutes if you want a moist center, 2 to 4 minutes longer if you prefer it dryer. The cake is done when it's golden on top and the center is firm when the pan is gently shaken. Invert the whole cake onto a plate or cutting board and serve with the brown crust on top.
Eat with butter if you wish, but it is delicious as is. At breakfast it's even better with a smear of fruity jam or marmalade.
Thanks for reading On the Kitchen Porch! Subscribe for free to receive new posts and support my work.